Everson Law | #104-9840 Fifth Street, Sidney, BC  V8L 2X3 | Tel: (250) 665-6869 | admin@eversonlaw.ca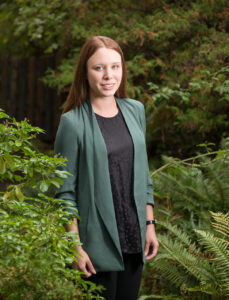 Laura grew up in Victoria and obtained her B.A. (Honours) from the University of Victoria in 2014.  Following her undergraduate degree, she moved to Ontario to pursue graduate studies at the University of Toronto, obtaining an M.A. in Political Science in 2015. She attended law school at Osgoode Hall.  During her time at Osgoode, she competed on a team in the Wilson Equality Moot, served as a caseworker at a Legal Aid clinic specializing in disability law, and worked as a research assistant in labour, employment and constitutional law.
After obtaining her J.D. in 2019, Laura articled at a well-reputed boutique litigation firm in Toronto.  There she gained valuable experience advocating for clients in the Ontario Superior Court of Justice and Small Claims Court, and felt privileged to work on important files including abuse of elders in long-term care facilities, medical malpractice, and catastrophic personal injury. She was called to the Bar in Ontario in June 2020.
Upon completing her articles, Laura returned to her home of Vancouver Island and was called to the Bar in British Columbia in September 2020. That same month, she joined Everson Law. She now serves on the Board of Directors of Shekinah Homes Society, a non-profit housing group in Victoria. In her spare time, she can be found running, hiking, cooking and enhancing her knowledge and fluency in French.
Memberships
Member of the Law Society of Ontario, 2020
Member of the Law Society of British Columbia, 2020
Member of the Canadian Bar Association
Member of the Victoria Bar Association
#104-9840 Fifth Street | Sidney, BC V8L 2X3 | Phone: (250) 665-6869 | Fax: (250) 665-6969 | admin@eversonlaw.ca
© Wendy L. Everson Law Corporation, doing business as, Everson Law 2021