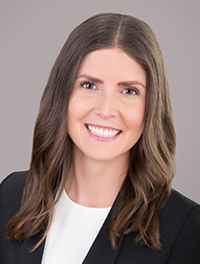 Emily was attracted to the law at a young age. A problem solver, her eagerness to help others and community spirit inspired her to pursue her educational achievements. Emily's educational accomplishments include her Bachelor of Business Administration degree with honours majoring in Human Resource Management and Leadership and her Juris Doctorate (JD) from Thompson Rivers University. Upon completion of her Juris Doctorate, Emily returned home to pursue her legal career starting with completion of her articles with an established law firm in Downtown Victoria. Having been raised on the Peninsula, Emily was eager to return and after her Call to the to the British Columbia Bar in May 2020, Emily joined Everson Law.
Emily understands small business. She knows what it takes to create and run a successful business. She embraces the importance of long-lasting customer relations having worked in the retail service industry and being a contributing factor to a successful Peninsula based family business for over 12 years.
Emily speaks fluent French and English. Along with the practice of law, she enjoys travelling, baking, and spending time with family and friends.
Memberships
Member of the Law Society of British Columbia, 2020
Member of the Canadian Bar Association
Member of the Victoria Bar Association